Tungsten carbide is a hard, high temperature melting metal that is used to make or coat cutting surfaces. These tungsten carbide and tungsten carbide coated tools are useful when machining through materials such as carbon steel or stainless steel, as well as in situations where other tools would wear away, such as high-quantity production runs, and mining. Suppliers of tungsten alloy products carry a vast range of tungsten carbide stock products for the mining, earthmoving, agricultural and metal cutting industries. Special shapes can also be manufactured to client's specifications.
Tungsten carbide and alloy products can be ordered in many shapes and sizes, examples of which are rectangular tungsten carbide blanks, shaped tungsten carbide blanks, drill insert blanks, tungsten grits and hard facing products, polycrystalline diamond products, and tungsten carbide rods. Pre-made products include carbide endmills, drills, burrs, reamers, special carbide preforms, special carbide and HSS toolings, diamond coated tooling, carbide/HSS saws, carbide blanks, diamond dressers, indexable insert tooling and inserts, and PCD/CBN inserts.
Tungsten carbide tool manufacturers have the capability to produce high integrity castings for industry and agriculture and also provide a comprehensive service from design through to finished product. They can also make custom carbide tools and parts made from solid carbide and HSS in the form of special milling cutters, stepped carbide and HSS drills, carbide/HSS reamers, tool bits, and brazed tooling for all kinds of manufacturing needs. Other products that can be made include drilling and construction tools such as drilling rods, connectors and cutters, bullet teeth, and rock drills; agricultural tillage tools such as wear parts for row crop and deep tillage, and replaceable cutting edge shear bars. Tungsten carbide can also be used in forestry and arbour tools.
Dezhu Grade Chart I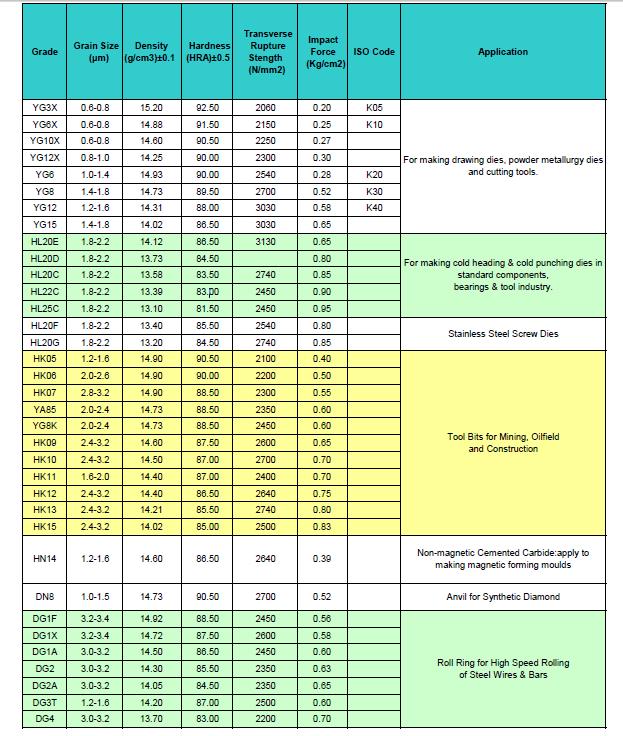 Dezhu Grade Chart II